A technical drawing of Em-ITX board and expansion module
Photo: Company
Wednesday 4 March 2009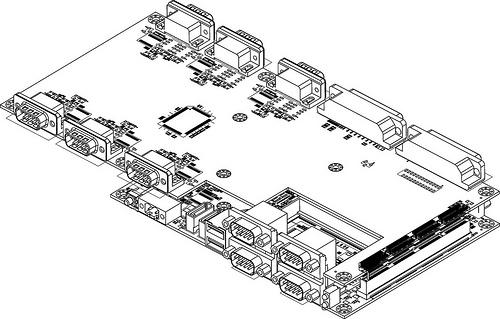 VIA Technologies has announced its latest board form factor for embedded system developers, the Em-ITX form factor which offers embedded developers a compact, versatile and highly integrated board form factor. VIA's Em-ITX hopes to establish a standard for ultra-slim embedded devices.
The Em-ITX form factor is a new open industry standard defined by VIA, and is 30% more compact than Mini-ITX, yet offers 200% more I/O real estate. At 12cm x 17cm, the Em-ITX form factor includes dual I/O coastlines and an Em-IO expansion bus to bring flexibility and scalability. Benefits also include reduced time-to-market cycles for developers and access to a scalable processor platform that includes the 64-bit VIA Nano processor, according to VIA.
Embedded boards based on the Em-ITX form factor can form the base for industrial automation, digital signage, kiosk and other applications requiring an ultra-slim embedded device.