Cloud Engines Pogoplug
Photo: Company
Thursday 26 February 2009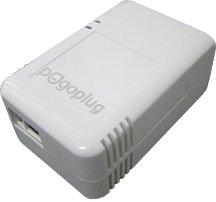 Cloud Engines' Pogoplug connects an external hard drive to the Internet enabling users to share and access files from anywhere.
The Pogoplug is based upon Marvell's SheevaPlug development platform, which is part of Marvell's Plug Computing initiative.
The SheevaPlug platform uses a Marvell Kirkwood processor based on an embedded 1.2GHz Sheeva CPU equipped with 512MB of flash and 512MB of DRAM. Connection to the home network is via Gigabit Ethernet. Peripherals such as direct attached storage can be connected using a USB 2.0 port. Multiple standard Linux 2.6 kernel distributions are supported on the SheevaPlug development platform. The enclosure is designed to plug directly into a standard wall socket and is designed to draw less than one tenth of the power of a typical PC being used as a home server, highlighted Marvell.
The Pogoplug is currently available for pre-order priced around US$99.