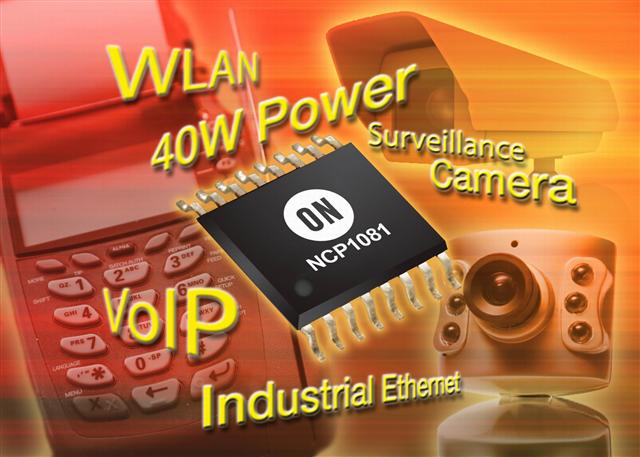 ON Semiconductor has announced that its NCP1081 and NCP1083 integrated power-over-Ethernet powered device (PoE-PD)/DC-DC converter controllers have been verified to meet the upcoming IEEE802.3at standard for high power communications applications.
Both devices have also been verified by the University of New Hampshire Interoperability Laboratory (UNH-IOL) for the recent draft IEEE 802.3at (D3.1) standard. The UNH tests confirm that these devices can enable PoE+ compliant platforms on the market, and are in line with the evolving high power requirements of the WLAN access point, WIMAX, industrial and IP camera markets.
ON Semiconductor's portfolio of integrated PoE-PD products contains four devices. The NCP1081 and NCP1083 provide power levels up to 25.5W for applications in line with the draft IEEE 802.3at (D3.1) standard and up to 40W for proprietary high power PoE applications. The NCP1080 and NCP1082 offer IEEE802.3af compliant power levels. The NCP1082 and NCP1083 are also capable of providing power via an auxiliary parallel supply.
All NCP1081/2/3/4 devices are currently available. The per unit prices for quantities of 1,000 and above are US$1.45 for the NCP1080, US$1.48 for the NCP1082, US$1.80 for the NCP1081, and US$1.85 for the NCP1083. NCP1081/3 evaluation boards are available for US$150.