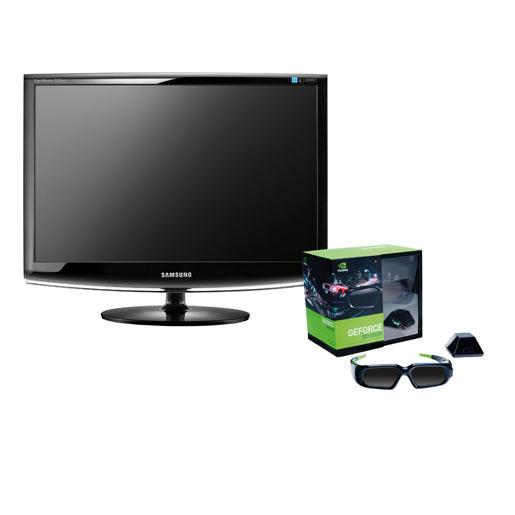 Samsung Electronics America announced their first 3D monitor, the 2233RZ, which is compatible with Nvidia's new GeForce 3D Vision graphics card.
The Samsung 2233RZ features 1680x1050 resolution, 300 cd/m2 brightness, 20,000:1 contrast ratio, GTG 3ms(3D)/5ms(2D) of response time, and 120Hz dual engine.
The monitor also has a built-in off time function for energy-saving benefits. Unlike many other widescreen monitors, the Samsung 2233RZ displays 5:4 and 4:3 images without enlargement or distortion, the company said.
The 120Hz 2233RZ, in conjunction with Nvidia's software, automatically converts over 350 games to stereoscopic 3D without the need for special game patches. High-tech active shutter glasses deliver double the resolution per eye and wide viewing angles than passive glasses.
The 3D glasses are easily powered over a standard USB cable and can last an entire week without a recharge
The 2233RX will be available for purchase in April 2009 and with a manufacturer's suggested retail price (MSRP) of US$399.