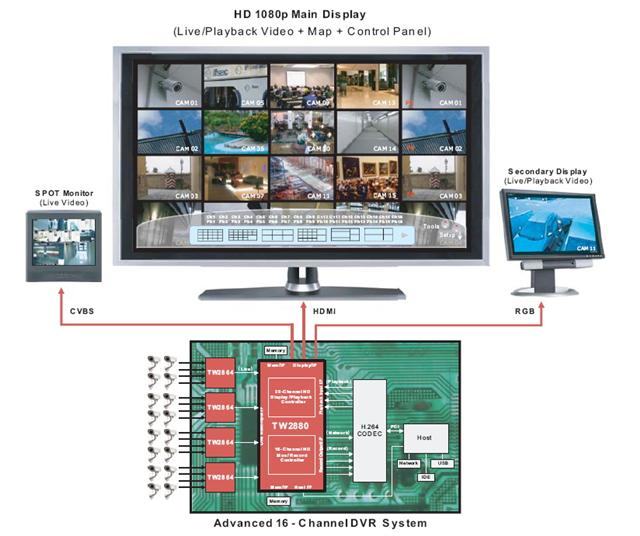 Techwell's TW2880 is a 16-channel video and graphic controller with HD 1080p display capability for security surveillance applications.
The device is designed to accept 16 live video inputs and playback 16 pre-recorded inputs simultaneously. Incoming live and playback video can be multiplexed, scaled up or down, de-interlaced, and displayed on two separate monitors.
The main display output can display up to 20 channels on an HD 1080p monitor via HDMI interface. The secondary display output supports VGA, S-video and CVBS. There are four analog SPOT outputs that can be used to monitor live camera inputs.
For video record, the TW2880 supports 16-channel real time and non-real time recording with flexible frame rate and resolution over 27MHz, 54MHz and 108MHz clocks. The record output ports support BT.656, BT.1120 and BT.601 data formats. Special record modes such as mixed frame and mixed field switching modes are also supported. Record output stream can be in both field or frame interleaved format. The playback input ports support BT.656, BT.1120, BT.601 and 16-bit digital RGB data formats.
Other key features of the TW2880 include triple 16-bit bitmap OSG windows, 4-color OSD, channel ID encoder/decoder, and motion detector.