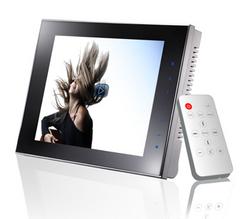 PF Digital claim that the eStarling frame is the first wireless clip frame, providing all the benefits of a digital photo frame while allowing users to receive and play DVD-quality video clips.
Each eStarling ImpactV frame has its own dedicated email address, allowing photos and video clips to be sent wirelessly to an eStarling ImpactV frame.
ImpactV owners are encouraged to sign up for a free account on Photobucket, the premier standalone photo and video sharing Web site, so they can send photos and videos directly to their digital photo frame through the website.
The product features 8-Inch LCD screen with 800X600 resolution, MMC/SD/MS card slot, USB 2.0 client, and built-in 512MB FLASH memory.
The photo frame is available at eStarling website with price of US$199.99.