Fujitsu launches SD multi-standard decoders supporting MPEG-2 and H.264
Photo: Company
Wednesday 3 December 2008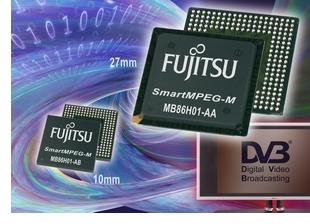 Fujitsu Microelectronics Europe's (FME's) new series of multi-standard decoders support decoding of MPEG-2 and H.264 video compression formats for Standard Definition (SD) video.
Designed for use in TV and set-top box (STB) equipment, the MB86H01 series is targeted at the SD digital broadcast markets in Russia, Eastern Europe and China.
The new series, which consists of two devices, the MB86H01 AA and MB86H01 AB, supports the Digital Video Broadcasting (DVB) broadcasting standard used in these regions, and features MPEG-2 and H.264 decoders integrated into single chips with the functionality necessary for receiving SD broadcasts, according to Fujitsu.