Asustek Triton 81 CPU cooler
Photo: Company
Wednesday 5 November 2008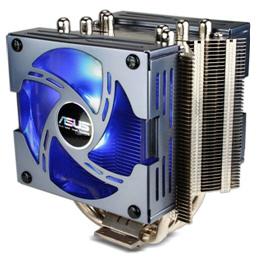 Asustek has launched the new Triton 81 cooler to support quad-core processors as well as the latest Intel Core i7 processor (LGA 1366).
The cooler is equipped with an exclusive 4-way airflow heatsink design and dual-fan for efficient CPU cooling. A diamond-blue LED provides aesthetic appeal for DIY and overclocking enthusiasts, according to the company.
The Triton 81 utilizes a 4-way airflow heatsink design to create an unobstructed passage of air circulation, together with 4 U-shaped copper heatpipes for efficient heat transference.