FPD China 2009: AUO 8.9-inch convex display panel
Photo: Company
Thursday 12 March 2009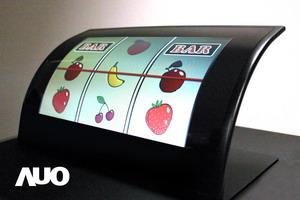 AU Optronics (AUO) is showcasing its products, including a curved display panel for handsets, at FPD China on March 11-13, 2009. The 8.9-inch convex curved display panel has a curved radius of 120mm.
AUO is also demonstrating its 240Hz response time technology, 8000:1 high contrast ratio featuring AMVA 3 technology, environmental 52-inch "Eco-Plus" full HD panel, and ultra slim LED backlight LCD TV panel.
AUO is at the event for the first time, as the panel maker gears up its development of the China market.