STMicroelectronics automotive CMOS sensor for vision-based driver-assistance systems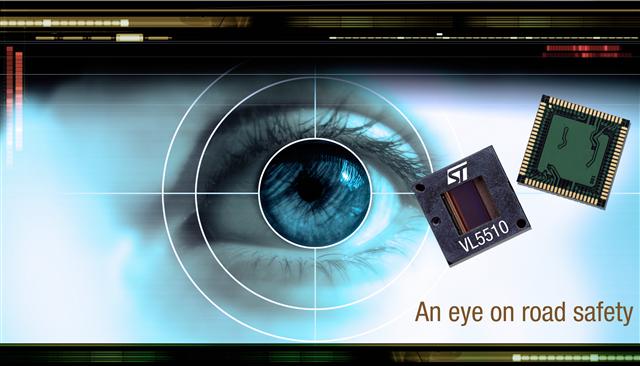 The device is STMicroelectronics' first high-dynamic-range CMOS camera specifically tailored for the vision-based driver-assistance segment of the automotive market.
The role of advanced driver assistance systems (ADAS) is to increase the driver's awareness of conditions around their vehicle, detecting dangers and providing support in hazardous situations. It is estimated that more than 90% of all automobile accidents involve human error and many could be eliminated with automatic warning systems.
The new VL5510 sensor feeds the decision-making vision processor that activates functions such as active braking and lane-departure warning. These are features that are already being rolled out on passenger vehicles and is planned to be mandatory in Europe for heavy vehicles from 2013, as part of the European Commission's drive to reduce road fatalities.
This new VL5510 sensor has a 1024x512-pixel format and features fully programmable output image size and frame rate (up to 34 fps), with video delivered via 12-bit parallel interface or serial interface (RAW 8/10/12 format).
The device is currently sampling to lead customers and will be in mass production in automotive applications in early 2009. Pricing is expected to be in the range of US$20 for bare-die quantities of 10,000 pieces.