eMachines EL1200 series desktop PCs
Photo: Business Wire
Tuesday 21 October 2008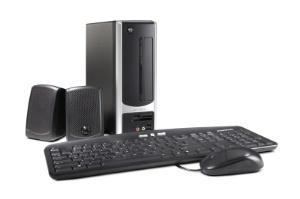 eMachines has introduced its new compact EL1200 desktop series of PCs. Starting at less than US$300, the PC features 64-bit AMD Athlon processing power, 1GB or 2GB of memory and rich Nvidia GeForce graphics.
40% smaller and 55% lighter than eMachines' smallest tower PC, the EL1200 is targeted for small areas such as stationed next to a phone where it can serve as the family's digital hub.
The company is also targeting students and parents looking for a PC for their children.