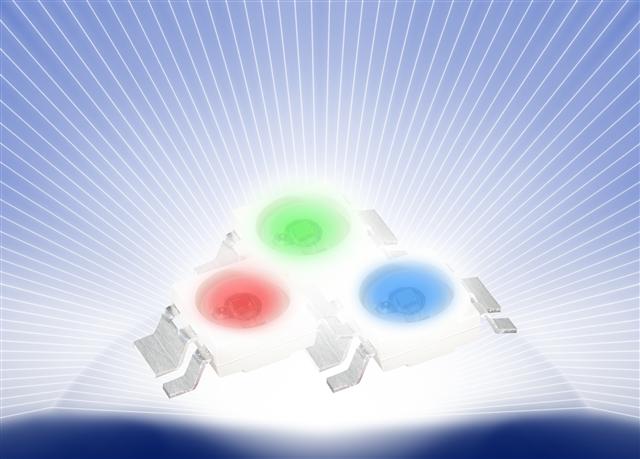 The new Advanced Power TopLED Plus from Osram is the brightest colored LED in its class, providing 15% more light for direct display backlighting.
Depending on the display, the LEDs in the usual combination of red (623 nm), green (527 nm) and blue (457 nm) also cover more than 125% of the NTSC color gamut. They are suitable for all directly backlit displays, particularly for large formats of 24-inches and more.
The greater brightness of the Advanced Power TopLED Plus comes mainly from the special lens designed for backlighting. At an operating current of 100 mA the LEDs now achieve 14 lm (red), 24 lm (green) and 28 mW/sr (blue). The newly developed lens ensures absolutely uniform display backlighting. The chips used have an edge length of 500 µm and are fabricated in the latest ThinGaN or Thinfilm technology so that the light sources achieve the highest efficiency in their class: 65 lm/W (red), 59 lm/W (green) and 27% overall efficiency (blue).
A life of more than 50,000 hours is also expected and the low height of the LEDs of only 2.25 mm means that the backlighting can be very thin.
Advanced Power TopLED Plus is suitable for all display sizes, with the focus on screen diagonals of 24 inches and more. Projects are already under way with key customers for use in 46-inch monitors. 1200 LEDs are sufficient for this size. Up to now about 600 more LEDs have been needed to produce the same brightness.