Asustek Xonar D2X PCI Express-based audio card
Photo: Company
Tuesday 9 October 2007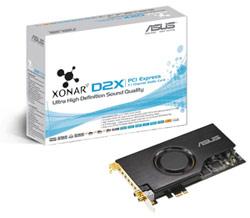 Asustek Computer recently introduced its PCI Express interface Xonar D2X and the USB interface Xonar U1 audio devices.
The Asustek Xonar family of audio cards utilizes an Asustek exclusive technology íV the new DS3D GX extension in the Xonar D2X driver; to provide full support for surround sound and hardware accelerated features by translating DirectX to the DS3D GX, according to the company.
Other solutions like OpenAL require special installation and game support, while, DS3D GX does not, pointed out Asustek.