Asustek P5E series motherboard
Photo: Company
Monday 8 October 2007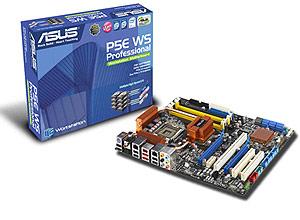 The P5E workstation series also provides several integrated features like AI Slot Detector, AI Gear 2 and AI Nap.
The multiple slot interfaces increase expansion choices and allow users to obtain high data transmission speeds, highlighted Asustek.
PCIe 2.0 x16 offers double the bus bandwidth of PCIe, from 2.5Gb/s to 5.0Gb/s. The P5E workstation series also showcases PCI-X slots for more convenient slot expansion and is able to bring about full speeds for Gigabit Ethernet, SCSI RAID and other PCI-X devices, claimed Asustek.