SanDisk helps fight Alzheimer's disease with memory products launch
Photo: Business Wire
Friday 14 September 2007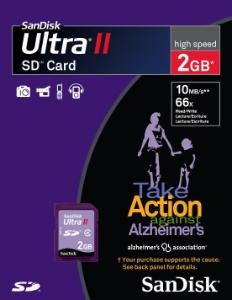 SanDisk announced it was helping in the fight against Alzheimer's disease through the sales of its Ultra II SD card and a Cruzer Micro USB flash drive.
SanDisk will contribute US$1 to the Alzheimer's Association, the leading volunteer organization for Alzheimer's research and family support, for each specially-branded product purchased through August 2008, up to a maximum of US$1 million.
For detail information, please visit the company's website.