SanDisk introduces motorcycle-themed USB flash drive
Photo: SanDisk
Thursday 19 July 2007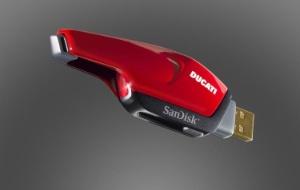 Housed in a red chassis fashioned after a Ducati motorcycle, the new SanDisk Extreme Ducati edition USB flash drive was introduced as part of a new performance-oriented line of flash memory products.
This USB drive will be offered in a capacity of 4GB and has a read/write speed of 20MB/s. The suggested retail price is US$124.99.
For detail information, please refer to the company's website.