SanDisk CEO with new Ducati branded CF card and USB drive
Photo: Business Wire
Thursday 19 July 2007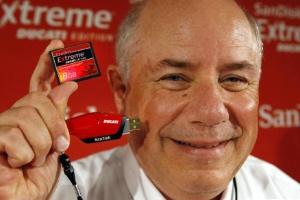 SanDisk on July 17 launched the SanDisk Extreme Ducati edition flash memory cards and USB flash drive aimed at consumers who demand fast read/write speeds for use with their digital cameras and computers.
SanDisk CEO Eli Harari holds an 8GB CompactFlash (CF) card and a 4GB USB flash drive, which is shaped like the chassis of a competition Ducati motorcycle.
For more detailed information, please refer to the company's website.