Toshiba 4GB microSDHC card
Photo: Company
Monday 2 July 2007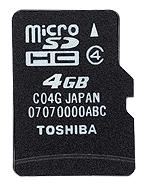 Toshiba has announced the expansion of its line of small-format, high-speed, high-capacity memory cards with the launch of a 4GB microSDHC card.
The new card extends Toshiba's range of microSDHC cards, a popular memory card format for mobile phone applications, from 256MB up to 4GB.
Toshiba's 4GB microSDHC card meets SD memory card standard Ver. 2.0 and is designed for use in dedicated microSDHC slots, but can also be used in standard SDHC card slots with an adapter.
The new cards will be available worldwide beginning in July.