Hynix 1GB/2GB DDR3 1066MHz memory modules
Photo: Hynix
Tuesday 1 May 2007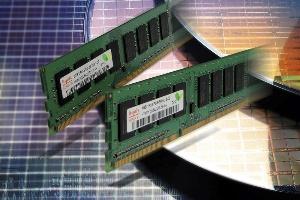 Hynix Semiconductor announced it has received validation on its DDR3 memory components and modules from Intel.
The newly-validated DDR3 products are 1Gb DDR3 SDRAM component manufactured on 80nm process technology, 1GB 2GB DDR3 unbuffered-DIMMs.
These devices have operating speeds of 800MHz and 1066MHz and a 1.5V power supply. These speeds are offered in latency combinations of 5-5-5 and 6-6-6 for 800MHz, and 7-7-7 for 1066MHz.