The Thermaltake MaxOrb CPU cooler
Photo: Company
Friday 23 March 2007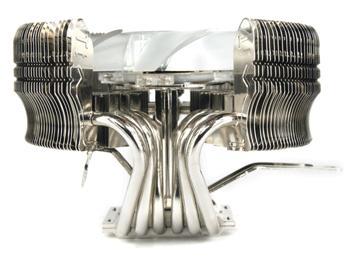 Thermaltake recently introduced its MaxOrb CPU cooler for the enthusiast crowd.
Supporting Intel Socket LGA775 and AMD Socket AM2/939/754 series CPUs, the MaxOrb utilizes six independent channel heatpipes to dissipate heat through the radial fins of the aluminum radiator.
Thermaltake claims the MaxOrb makes only 16dBA of sound while operating at minimum speed. The fan has an adjustable speed control to provide more performance for overclocking operations, noted the company.