SanDisk's 2.5-inch solid state drive (SSD)
Photo: Company
Thursday 15 March 2007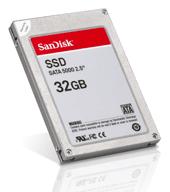 SanDisk recently launched a 32GB 2.5-inch solid state drive (SSD) for notebooks.
Coming just two months after SanDisk introduced a 1.8-inch SSD for ultraportable notebooks, the 2.5-inch SSD is now available to PC manufacturers as a drop-in replacement for hard disk drives, the company said.
The SanDisk 2.5-inch SSD fits in the same internal slot as 2.5-inch hard disks, so notebook manufacturers can switch to the SanDisk SSD without altering their hardware designs, claimed the company.