PNY introduces 4GB SDHC card
Photo: PNY
Tuesday 5 December 2006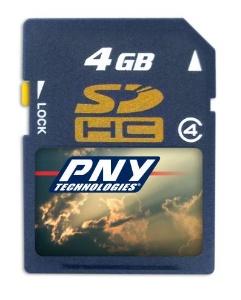 PNY Technologies today introduced its 4GB SecureDigital High Capacity (SDHC) card that meets the SDA standard 2.0.
The memory card has a class 4 SDHC data transmit rate, supporting a minimum transmission rate of 4MB per second.
The SDHC card will be available for sale in channels in the first quarter of 2007 and a class 4 8GB SDHC in will also be introduced.