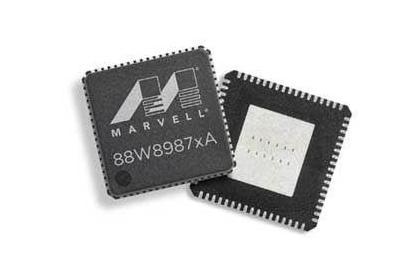 Marvell's 88W8987xA is an automotive-grade system-on-chip (SoC) to integrate the latest Wi-Fi, Bluetooth, and vehicle-to-vehicle (V2V) and vehicle-to-infrastructure (V2I) capabilities. The 88W8987xA family enables car manufacturers to simplify wireless enablement, and meets AEC-Q100 grade 2 standards, according to Marvell.
In addition to supporting the growing needs of IVI and emerging screen projection technologies, the 88W8987xA's 802.11p features will enable safety and autonomous driving by supporting pending National Highway Traffic Safety Administration (NHTSA)/Federal Motor Vehicle Safety Standards (FMVSS) and Dedicated Short Range Communication (DSRC) requirements. The 88W8987xA also supports Bluetooth 5 including Bluetooth Low Energy Angle of Arrival and Departure (AoA/AoD) and 802.11mc.
The 88W8987xA is interoperable with a wide selection of host SoCs, hardware HSMs, WAVE (1609.x) stacks and operating systems, and the 88W8987xA drivers are readily available for the Android platform, Linux and QNX, according to Marvell.