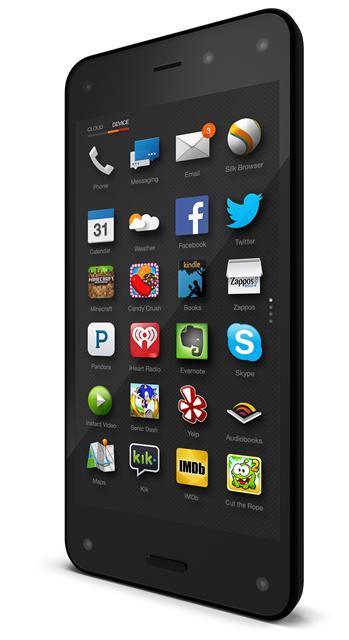 Amazon has unveiled Fire, the first smartphone designed by the company and features Amazon's Dynamic Perspective and Firefly. Dynamic Perspective uses a new sensor system to respond to the way consumers hold, view, and move the Fire. Firefly quickly recognizes things in the real world, web and email addresses, phone numbers, QR and barcodes, movies, music, and millions of products, and lets consumers take action in seconds - all with the simple press of the Firefly button.
Dynamic Perspective uses four ultra-low power specialized cameras and four infrared LEDs built into the front face of Fire, a dedicated custom processor, sophisticated real-time computer vision algorithms, and a new high-performing and power-efficient graphics rendering engine.
Dynamic Perspective features include one-handed gestures for auto-scroll, tilt, swivel and peek for quicker, easier navigation and a better media and entertainment experience; and the enhanced carousel for developers to customize the contents of their dynamic app and how it responds to user actions.