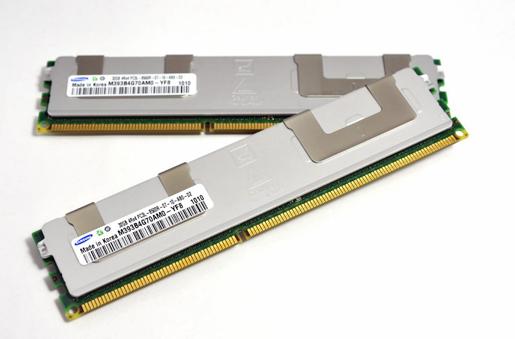 Samsung Electronics has announced that it has begun shipping samples of its 32GB DRAM module designed for use in advanced servers, with mass production slated to begin in April 2010.
Samsung is using the industries' highest-density monolithic DDR3 device - a 40nm-class, 4Gb DDR3 chip - as the building block for the new 32GB module. This comes just one year after the company announced its 50nm-class 2Gb based, 16GB registered dual inline memory module (RDIMM) last March.
The 32GB RDIMM consists of 36 dual-die 40nm-class 4Gb DDR3 chips that can perform at equal or greater levels to a 40nm-based 16GB RDIMM with no increase in power consumption.
By equipping a dual CPU, two-way server with 32GB modules, a server system can have up to 384GB of memory. This allows for doubling the previously largest density of 192GBs per server with a power increase of less than five percent over that needed for a 16GB module-based system, teh vendor said.
In addition, replacing 12 DRAM modules of 16GB density with just six 32GB modules would achieve a 192GB total density, while allowing the DRAM operating speed in a two-way server system to rise by 33% from 800 megabit per second (Mbps) to 1,066Mbps, as power is cut by 40%, it said.