eRead launches e-book reader in Taiwan
Photo: Company
Thursday 14 December 2006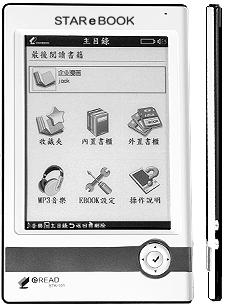 China-based eRead, a Chinese electronic book distributor, recently launched the STAReBook e-book reader in Taiwan.
The reader features Prime View International's (PVI's) electronic-paper (e-paper) display, according to eRead.
The portable reader features a 6-inch e-paper screen is only 0.8cm thick and weighs 176 grams and has a battery life of more than 8,000 continuous page turns.