NTT DoCoMo PEFC recharger for FOMA handset
Photo: Company
Monday 17 July 2006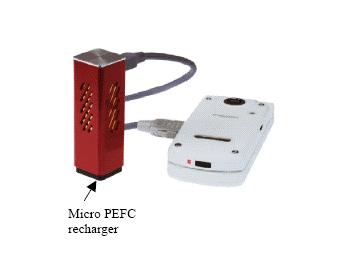 The fuel cell is the smallest in the world with power output of 2 watts as of July 14, according to the company.
The recharger combines DoCoMo's recharger technology with Aquafairy's thin film power unit technology and catalyst for producing hydrogen from water.
The simple hydrogen-producing mechanism and power units make the recharger less than one-fourth the size and more than twice as powerful as the methanol fuel cell prototype that DoCoMo unveiled on July 6, 2005.