31 news items tagged industrial automation
Quanta Storage, a subsidiary of Quanta Computer, is expected to see its visual-type cooperative robot shipments rise from 1,000 units in 2017 to 2,000 units in 2018, according to...

Taiwan-based automation product maker Solomon Technology is showcasing its in-house developed artificial intelligence (AI) and 3D machine vision system at Taipei International Industrial...

In view of large potential demand for automated production in China due to the government's China Make 2025 initiative, Taiwan-based industrial automation equipment, device and component...

Taiwan-based storage product maker Promise Technology has been pushing its in-house developed Vskycube hyperconverged server solutions which it will focus on promoting to the industrial...

Power supply and energy management solution provider Delta Electronics regards mergers and acquisitions as a main source of revenue growth and aims to acquire large industrial automation...

Motherboard and computing device maker DFI expects products used in casino machines, financial services and industrial automation to be the main sources of growth in 2017 revenues,...

Power supply maker and energy management solution provider Delta Electronics expects industrial automation products and components as well as automotive electronics to drive growth...

The Taipei International Industrial Automation 2016, an exhibition focusing on Industry 4.0-based smart manufacturing, began today at the Nankang Exhibitin Center, and will run till...

Putting Industry 4.0 into practice has become a universal lesson throughout the industry. However, most Industry 4.0 interpretations in recent years have mainly focused on the data...

Pegatron Technology chairman TH Tung has commented on China-based media reports that Pegatron's factory in Shanghai, China has recruited fewer workers than in 2015, saying that Pegatron...

POS (point of sale) device and peripheral maker Flytech Technology has surpassed fellow makers in customized POS design and technology and even led in developing POS hardware specifications,...

Delta Electronics is showcasing its industrial automation, energy management and smart grid solutions as well as demonstrating its Scara industrial robot at the Hannover Messe show,...

Global industrial electronics chip revenues for 2013 amounted to US$33.7 billion, a 11% rise from US$30.4 billion in 2012, according to IHS. The double-digit increase shows that the...

Epson has been aggressively developing robot arm products, trying to expand in the industrial automation market. The company is the largest robot arm supplier in Taiwan with a 28%...

More than half of all wireless-enabled industrial automation equipment shipped in 2012 used Bluetooth or 802.11a/b/g/n wireless LAN (WLAN) technology, with the two entrenched standards...

Foxconn Electronics (Hon Hai Precision Industry) will establish an automated production base in Harbin, northeastern China, reportedly eyeing the strong R&D capability of the...

Automation equipment maker Mirle Automation has revealed that its operations remain sound despite an increase in its short-term debts, which amounted to NT$1.25 billion (US$42.84...

Taiwan-based IC distributor Answer Technology (ANStek) has been eyeing IC orders from the automated production segment as demand for automation equipment from Taiwan-based firms'...

Mirle Automation, a Taiwan-based maker of panel production and industrial automation equipment, has indicated demand for touch panels is growing and the firm has introduced touch...

Intel's Atom D525 (Pineview) processor, which has been adopted in industrial PC (IPC) products such as point of sales (POS), digital signage, gambling machines and industrial automation...

The industrial automation market has been in a slump since second-half 2011 due to limited capital from China-based banks. However, the market has been showing signs of revival in...

China has always given the impression of having a large and cheap labor force. But as the country's population structure and social values are starting to change, Foxconn Electronics...

Taiwan-based Delta Electronics plans to set up a new plant as well as an R&D center for the development of power supply devices for industrial automation equipment and electric...

Lanner Electronics has released the LEC-2026, an embedded system with a specialized focus on network capabilities. The LEC-2026 is driven by the N270 Intel Atom CPU and the Intel...

Delta Electronics has begun producing power supply units (PSUs) for LED-backlit LCD TV vendors based in Japan, South Korea, Europe and Taiwan, according to company CEO Yancey Hai.
Related photos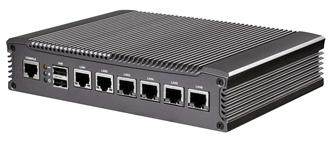 Lanner LEC-2026, an embedded system with a specialized focus on network capabilities.
Photo: Company, Monday 27 September 2010
Related news around the web