EverFocus Secutech events attract large crowds
Press release [Tuesday 8 April 2014]
EverFocus, the leading business-to-business security manufacturer, received positive feedback for their events and innovative booth design at Secutech 2014 held at Taipei World Trade Center Nangang Exhibition Hall.
The 17th international exhibition and conference for electronic security, info security, fire & safety secutech was held at the Nangang Exhibition Hall come to an end on March 21. On the first day of the opening ceremony, representatives of many countries in Taiwan, VIPs and industry sectors advanced gathered. EverFocus expands their booth this year to showcase their latest technologies such as 360-degree panoramic camera and PTZ cameras, latest 10x optical zoom network camera. Most of all, the events they have during the three-day-periods is the highlight of the show.
EverFocus Electronics held a total of seven product presentation, organized by a number of professional colleagues EverFocus demonstrated 10x optical zoom network cameras and in-car solutions combined with successful cases in different vertical markets. The interactions with the audience significantly enhanced the brand awareness of consumers as well as deepen the public impression of EverFocus products.
EverFocus uses the latest 360-degree panoramic camera and PTZ camera to perform a combination of their technology, making the surveillance easier and more efficient. In addition, this year EverFocus sets up a complete electronic HD-SDI solution, combining four 8-channel HD-SDI DVR together and using only one mouse to operate all four and which is equal to a 32CH DVR effect.
Over the years, the award-winning EverFocus is listed in the 50 top global manufacturers again. Their ENVR8304E NVR won the secutech award.
During and after the exhibition, EverFocus' has been receiving enthusiastic responses from their visitors and media. EverFocus promisd that in the future, they will continue to introduce more complete solutions to manufacturers and provide "service" based services for customers. If you need detailed information about EverFocus products, please visit http://www.everfocus.com.tw/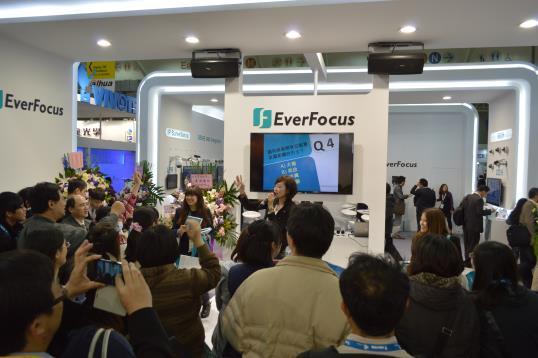 EverFocus drew massive attention during the opening ceremony at Secutech 2014