Clientron to exhibit its latest Zero/Thin Client and POS solutions along with the full product line at Computex Taipei 2013
Press release [Tuesday 21 May 2013]
Clientron Corp., a world-leading manufacturer of thin client and embedded systems, will proudly present and demonstrate its newly launched products including zero/thin client solutions for cloud computing and POS solutions for retail and hospitality markets during Computex Taipei 2013.
With the benefits of green technology, innovative design and reliable quality, Clientron is going to introduce its entire thin/zero client product lines including zero client PCoIP (PC-over-IP), Userful Multiplatform and Microsoft RemoteFX solutions; as well as providing various choices with ARM-based and X86-based platform from entry to high-end level. Furthermore, Clientron will also highlight zero client solutions with lower power consumption and total cost of ownership (TCO); and also unveil the new L series thin clients with dual-core CPU, DDR3 memory and dual DVI display ports.
In addition, Clientron will showcase its full POS product line and debut its new POS solutions including all-in-one POS terminal Evo570 with 17" touch display, bezel-free flat panel and aluminum housing design; and the new all-in-one 15" POS Terminal - Mia550 with innovative and cost-efficient construction design for the most demanding retails and hospitality industry.
For more details of Clientron's products, please visit Clientron at TWTC Nangang Exhibition Hall, Booth M1236, Computex Taipei 2013.
More product information can be found at Clientron's web site: http://www.clientron.com/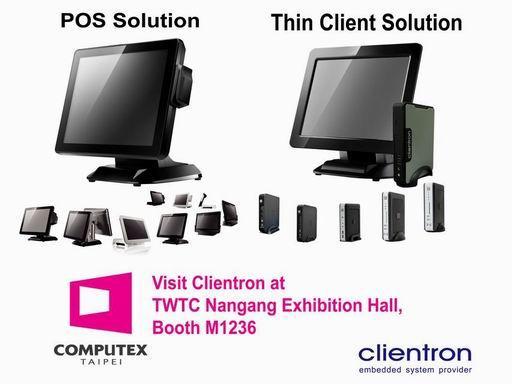 Clientron will exhibit its latest Zero/Thin Client and POS solutions at Computex Taipei 2013