ProLight Technology has the edge in offering customized LED & LED module services
Press release [Monday 26 November 2012]
In 2012, the LED output value has had a good performance compared to the same period in 2011. In Taiwan alone, LED factory generated total revenues of approximately NT$9.267 billion for January-October 2012, a growth of 16.8% over the same period last year.
However, oversupply pressure in many LED manufacturers have generated more and more strategic alliances and mutual shareholding to develop longer-term opportunities. The future role of LED manufacturing plants will not just chip or component suppliers; most of them will also be end products providers at the same time.
ProLight Opto has been dedicating their R&D in high-power LEDs and modules for a long time. In recent years they have introduced a series of important products in the areas of lighting sources. For example, the ProLight Opto Phoenix series has passed the IES LM-80 test, which is under the standard specified by the US Energy Star (ENERGY STAR) for solid-state lighting (SSL) luminaires and light source specifications for LED packaging/module/array. In addition, ProLight Opto develops different dimensions of the COB (chip on board) package products, ranging from 10 to 400 watts, and they can be applied to a wider combination of lighting applications.
With more than 20 years of experience in the LED industry, ProLight general manager Xing Chen Zhen Lun said, "ProLight specializes in packaging in the lighting field. Our products can be divided into three categories to serve customers. They are medium-power, high-power and higher-power packages. Medium-power products are 0.2 to 0.5 watts, high-power products are 0.5 to 5 watts, and products more than 5 watts are 'higher power' products." ProLight medium-power products can be used in general household lighting bulbs, and general lighting applications. ProLight is also able to develop high-power products up to 400 watts, reducing the number of light sources needed while maintaining the same brightness, so it can reduce the cost of lighting applications.
In recent years, the displays backlight market is seeing a decline in demand, a lot of Taiwan-based LED packaging and module factories have just moving into the filed of LED lighting. Unlike other LED manufacturers ProLight Opto have been specializing in lighting applications since the beginning and are capable of offering total lighting solution to customers. They are able to provide matching drivers, optics and mechanical assembly to their LEDs and LED module in order for customers to reduce time in product development. Furthermore, The LED products of ProLight Opto often need to endure harsh environments like in outdoor lighting applications, therefore the company have dedicated its efforts on new technology development, product reliability and diversity. In the LED packaging field, although most LED manufacturer concentrate on developing standard products, ProLight with its unique production technology, can deliver shorter production lead-time and with precise color control. In addition, ProLight pride its customized design capability as a distinguished service to downstream manufacturers in order to reduce inventory, while producing diverse lighting products to meet market demand.
In response to market trends, ProLight Opto will gradually include more LED module products into its product portfolio. For example, it uses different materials such as glass embedded LEDs to achieve multiple color changes. Furthermore, China recently launched the general working plan for saving energy and reducing emissions under the 12th Five-year Plan, and industries related environmental protection are expected to receive development opportunities. In the program, it clearly indicate that it is essential to promote energy-saving appliances and lighting products, which means that the LED lighting market will be given greater share in both residential and commercial lighting applications.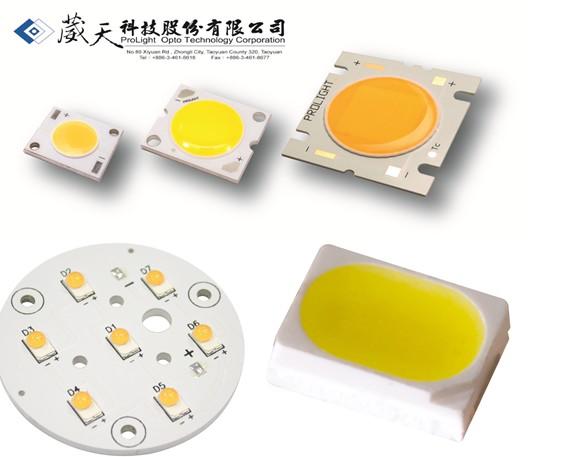 ProLight with its unique production technology, can deliver shorter production lead-time and with precise color control. In addition, ProLight pride its customized design capability as a distinguished service to downstream manufacturers in order to reduce inventory