Interactive Digital Signage in a Shopping Mall
Press release [Monday 12 November 2012]
Nowadays, digital signage is everywhere. It has become a popular marketing tool which can provide real time information, advertising and messages in rich multimedia formats to attract consumers. Interactive digital signage allows consumers to interact with the signage to enhance customer engagement and in-store sales. Among all public places, shopping malls are one of the ideal venues to utilize interactive digital signage.
Application Requirements
Since this interactive digital signage was to be deployed in a mall where it is crowded and noisy, the digital signage monitor had to be large enough, with good image quality, to draw people's attention. Moreover, fast, yet accurate touch responses were also required to build a reliable interactive interface. Lastly, the signage had to be rugged enough to withstand constant use and interactivity. Thus, reliability and longevity were key.
Solutions
Advantech DSD-3032 and ARK-DS520 were selected for the application. DSD-3032 provides 32" large format monitors supporting 1366 x768(HD) resolution and unparalleled image quality with configurable I/O. Unlike commercial grade monitors, the 32" digital monitor is designed with a metal frame and is fanless. Moreover, DSD-3032 is equipped with optical multi-touch solution which provides accurate 2-point touch with 4 mm tempered glass and anti-glare feature. Its versatile signal interface including HDMI, DVI, and VGA offers customers a wide range of signal options. The monitor also provides RS-232 and RS-485 for OSD (On Screen Display) remote control. Finally, DSD-3032 is fully integrated with ARK-DS520 providing our customer with a total solution for their digital signage applications.
Benefits:
- Optical multi-touch solution
- Wide viewing angle of 176°/176°
- Versatile signal interfaces of HDMI/DVI/VGA
- Wall mount solution with 200 x 200 mm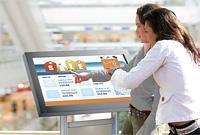 DSD-3032 provides 32" large format monitors supporting 1366 x768(HD) resolution and unparalleled image quality with configurable I/O