Amacrox MOBILE 95 - The World's Smallest Laptop Car Charger
Press release [Monday 18 June 2012]
Amacrox MOBILE 95 is a powerful charging solution, ideal for driving commuters who look to do more while in the traffic jam. Its sleek and compact design makes charge one smartphone and one laptop at the same time in your car without losing your fashion statement. With 11 exchangeable tips, MOBILE 95 is compatible to major brands of laptops in the market. The multi-charging and high compatibility with stylish design make Amacrox MOBILE 95 one of the must-have item selections.
Fast Charging and Easy to Use
With 2.1A True Current USB charging, Amacrox MOBILE 95 provides speed charging to your USB devices. Amacrox MOBILE 95 is capable of charging laptop and USB device at the same time without slowing down the charging speed.
Max Protection with Changeable Fuse
Amacrox MOBILE 95 provides max protection ( OCP,OVP,SCP) and its changeable fuse circuit breaker makes it easy to charge multiple devices at once without the fear of any power surge ruining those devices. Moreover, you can easily change the fuse when necessary in a simple and easy way. You will enjoy the safety and convenience with Amacrox MOBILE 95 Laptop Car Charger delivers, whether you are looking to charge your laptop, smartphones or other USB-powered devices.
Features:
Multi-Charging: Charging Laptop & USB devices at the same time.
2.1A output on USB : True Current, Fast Charging
Max Protection: OVP, OCP, SCP.
Changeable Fuse: Safety and environmental friendly ensured.
Specifications:
95W Power Output
Input VoltageĄG12V~16Vdc
USB Charging Port OutputĄG 2.1A
Output VoltageĄG19V,5V
Size & WeightĄG120*26.5*48mm/100g
Package ContentĄG95W Laptop Car Charger/Laptop exchangeable tip/laptop power cord/ User Guide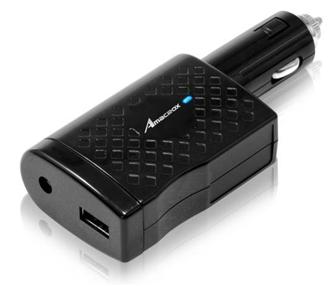 Amacrox MOBILE 95 Laptop Car Charger