Digitimes Research: Global tablet shipments to suffer 20% drop in 1Q13
James Wang, DIGITIMES Research, Taipei [Friday 8 February 2013]

Worldwide brand tablet shipments are estimated to reach 33.8 million units in the first quarter of 2013, down 21.8% sequentially, but up 75.8% on year, according to Digitimes Research senior analyst James Wang.
Apple's iPad series shipments will enjoy a close to 5% sequential growth to reach 22 million units in the first quarter, accounting for 65.1% of the total volume as changes in iPad series' life-cycle (launch schedule) in 2012 will help the iPad devices to suffer less impact from seasonal factors. However, seasonality will significantly impact demand for non-iPad tablets, causing their combined shipments to drop 46.9% sequentially to 11.8 million units with a market share of only 34.9%.
Digitimes Research estimates that Apple will remain the largest tablet brand in the first quarter, following by Samsung Electronics, Google, Amazon, Barnes & Noble and Microsoft.
Since Texas Instruments (TI) has quit the mobile device market and Nvidia has not yet started mass producing Tegra 4, the two firms' downstream partners such as Lenovo, Acer and Asustek Computer will suffer delays releasing new tablet models which will drop their shares of total tablet shipments to only about 10% in the first quarter.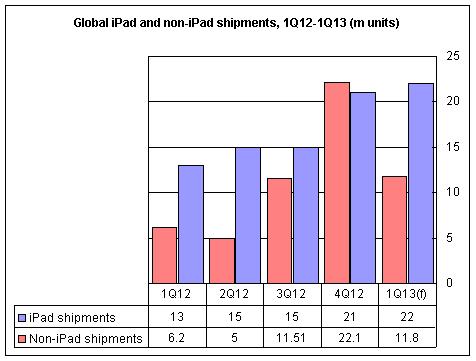 Source: Digitimes Research, February 2013