Digitimes Research: Branded tablet shipments hit 109 million in 2012
James Wang, DIGITIMES Research, Taipei [Friday 1 February 2013]

Global branded tablet shipments enjoyed better than forecast growth, rising 63% sequentially and 100.3% on year, to 43.22 million units in the fourth quarter of 2012, according to Digitimes Research senior analyst James Wang.
Meanwhile, Digitimes Research also raised its global branded tablet shipments figures for 2012 to 109 million units, with Apple's iPad series accounting for 58.7% of the shipments, and Android-based devices at 38.8%. Of the shipments, 83.9%, equivalent to 91.07 million units, were delivered by Taiwan makers with a growth of 61.2% on year.
In the fourth quarter, Amazon, Barnes & Noble, Google and Microsoft's new tablet devices helped non-iPad shipments reach 22.22 million units, surpassing iPad's 21 million to account for 51.4% of the total volume.
As for CPU ranking, although Amazon's and Barnes & Noble's mass shipments assisted Texas Instruments' (TI) OMAP processors to achieve a shipment volume of 21.81 million units in 2012, with an on-year growth of 145.1%, the second-largest in the market, the company's actions of laying off workers from the mobile processor business in October 2012 and Nvidia's tardiness of releasing its Tegra 4 will give Qualcomm and MediaTek opportunities to further expand their market shares.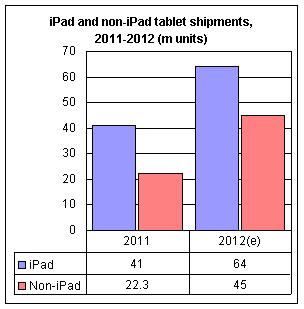 Source: Digitimes Research, February 2013