Digitimes Research: Android to account for 70% of handset market in 2H12
Luke Lin, DIGITIMES Research, Taipei [Friday 24 August 2012]

Observing from the competition between handset operating systems in the second half of 2011 and in 2012, Android, which already accounted for more than 60% of the handset market in the first half of 2012, is expected to see the percentage surpass 70% in the second half as several major Android handset vendors such as Samsung Electronics, Huawei and ZTE are all starting to pump up their shipments in the third quarter, while second-tier vendors, regional brand vendors, and white-box players are also aggressively launching new entry-level Android-based handsets in the China market, according to Digitimes Research senior analyst Luke Lin.
However, due to Android-based handsets' strong shipments of 224 million units in 2011 building a rather high comparison base, Android-based handsets are expected to see a rather weak on-year shipment growth rate in 2012 compared to that of 2011.
With Nokia cooperating with Microsoft to aggressively promote Lumia Windows Phones, Digitimes Research estimates that overall shipments of Windows Phone-devices in 2012 will reach 21 million units, up more than double on year, while Apple's iPhone shipments will surpass 125 million units in 2012. However, compared to the volume of 93 million units in 2011, iPhone will only see an on-year growth of less than 50% in 2012, lower growth in the past two years.
Handsets based on BlackBerry and Symbian operating systems are expected to see further shipment declines in 2012, dropping about 40% and 65% on year, respectively.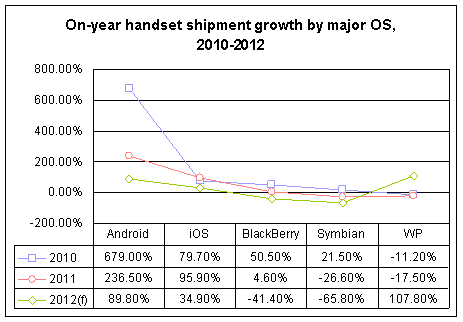 Source: Digitimes Research, August 2012