Digitimes Research: Yingli captures top solar module vendor ranking in 1Q12
Sophia Chen, DIGITIMES Research, Taipei [Monday 9 July 2012]

By shipments of solar modules, the rankings of top five solar firms in China experienced major shifts in first-quarter 2012, Digitimes Research has found. Suntech's shipments dropped significantly causing the firm to drop to third place in the ranking while Yingli Solar's shipments showed large increases pushing it to the top. The top five solar module firms in China according to shipments in the first quarter are Yingli Solar, Trina Solar, Suntech, Canadian Solar and Hanhwa SolarOne.
Since the beginning of 2012, solar firms have been striving to lower material costs of solar products. Nevertheless, the continuous drop of solar product prices has been causing most firms to suffer losses in the first quarter.
A major concern is China-based solar firms' first-quarter 2012 inventory values surpassed revenues for the first time. In fourth-quarter 2011, inventory values were 75% of the firms' revenues, but this figure shot up to 106% in the first quarter, a historical high. The high levels of inventories will affect the firms' available cash and loss on the value of the inventories will also erode profits. In addition, to lower inventory levels means to sell products at low prices which may cause further turbulences in the market.
China-based firms have been optimistic that demand in the solar market in Germany will continue throughout the third quarter. Furthermore, 1.7GW of demand will come from China's 2012 Golden Sun Demonstration Projects and with solar power plant projects in western cities, total solar installations in China in 2012 will increase. China-based firms are also optimistic about Japan's market after the new solar incentive program came into effect in early July.
Despite being taxed at 30% and above in the US, China-based firms are unlikely to give up on the US solar market. The firms have been searching for every possible solution. The current solution is to issue OEM orders of solar cells to Taiwan- and Malaysia-based firms.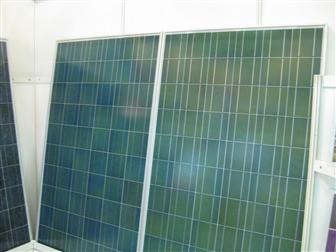 China solar firms optimistic about 3Q12 demand in Germany
Photo: Digitimes file photo