Digitimes Research: April 1 solar FIT cuts in Germany to negatively impact solar spot prices
Jackie Chang, DIGITIMES, Taipei [Wednesday 2 May 2012]

The German parliament adopted a bill introducng a new solar feed-in-tariff (FIT) policy at the end of March 2012. The new policy, which took effect on April 1, 2012, cuts FITs for both rooftop and ground-mounted systems.
Solar spot prices will be impacted by the German FIT cuts, according to a new report from Digitimes Research, PV 2012 - Expectations for the global solar market.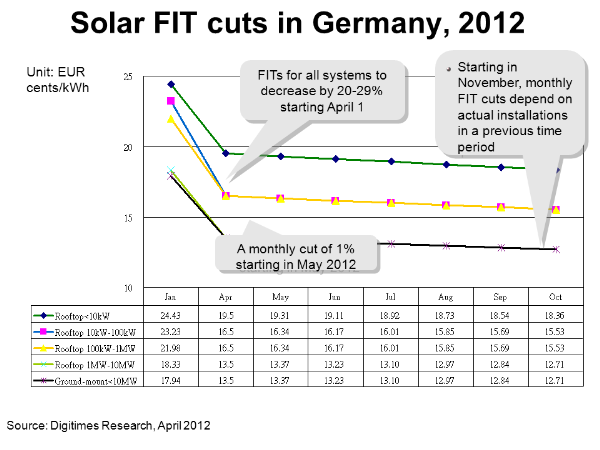 The German parliament passed the bill for solar feed-in-tariff (FIT) at the end of March 2012. The new solar FIT policy went into effect on April 1, 2012. FITs for rooftop solar PV systems that are smaller than 10kW have been decreased by 20% to EUR 0.195/kWh. FITs for rooftop solar PV systems that are the size of 10kW-1MW have bee cut by 25-30% to EUR 0.165/kWh. FITs for rooftop systems larger than 1MW and ground-mount systems have been deducted to EUR 0.135/kWh.
From May-October 2012, FITs for all systems will be reduced by 1% every month. For project owners that registered before February 24, 2012, a buffer period was given. For systems smaller than 10kW, the last on-grid date is June 30, 2012 and for large-size systems, the last day for gird connection is September 30, 2012 for the projects to enjoy the subsidy rate before the April 1 incentive cuts. This can reduce the impact of the incentive cuts. First-quarter 2012 installations are likely to reach a peak as the installations are eligible for the subsidies before the incentive cuts.
In addition, the new policy includes limits to the FITs. For systems smaller than 10kW, only 80% of the electricity generated can obtain subsidies. For systems larger than 10kW and smaller than 1MW, only 90% of electricity generated can be eligible for subsidies. All electricity generated by systems larger than 1MW is eligible for subsidies.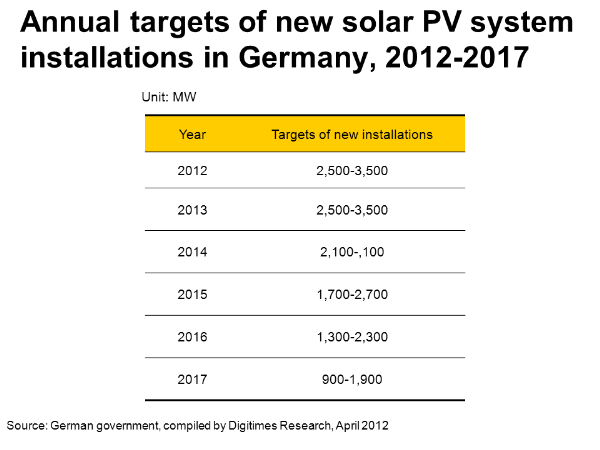 The new solar subsidy program also includes annual target for new installation from 2012-2017. The policy indicates that the target for new installations in 2012-2013 is 2.5-3.5GW. After 2013, the targets for new installations are to fall by 400MW every year. By 2017, the annual new installation target is 900-1,900MW.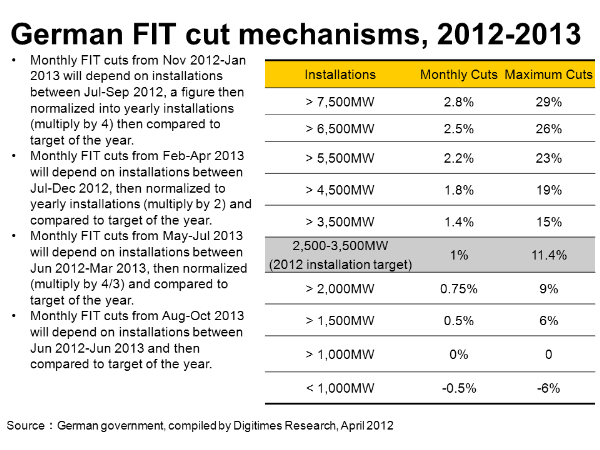 Under the new policy for 2012-2013, FIT rates will be lowered by 1% every month from May-October 2012. If actual installations grow at a rate according to plan, then the 1% FIT cut for every monthly will remain. The magnitude of the FIT cuts from November 2012-January 2013 will depend on new installations in the period of July-September 2012. If the new installations at this period falls within the target range (new installations from July-September multiply by four), then subsidies will be cut by 1% every month. If new installations from July-September 2012 fall between 4.5-5.5GW, accordingly, FIT cuts for November 2012-January 2013 will be 1.8% per month.
Judging from the surge of installations before the incentive cuts and the buffer period, Digitimes Research estimates that 3GW of installations completed registration or connected to grid in first-quarter 2012 - before the effective date of the new subsidy programs. After the incentive cuts were initiated, installations from the second quarter to year-end will only be about 2.5GW, meaning 2012 total demand in Germany will be 5.5GW, as previously predicted.
The weight of Germany・s solar market in the global solar market has been falling significantly in 2012 compared to 2011. With the rise of emerging solar markets, Digitimes Research believes the new solar policy in Germany is unlikely to cause great impact to the global solar market as a whole. Nevertheless, Germany・s solar market has high sensitivity to solar module prices, which means the supply chain will feel the influence as the industry has been plagued by oversupply. From a long-term perspective, Germany has been able to effectively control new installations within the target through monthly incentive cuts. In the future, the importance of Germany in the global solar market will continue to decrease on year. The price trend of solar products will be able to rid of impacts from Germany・s policy changes.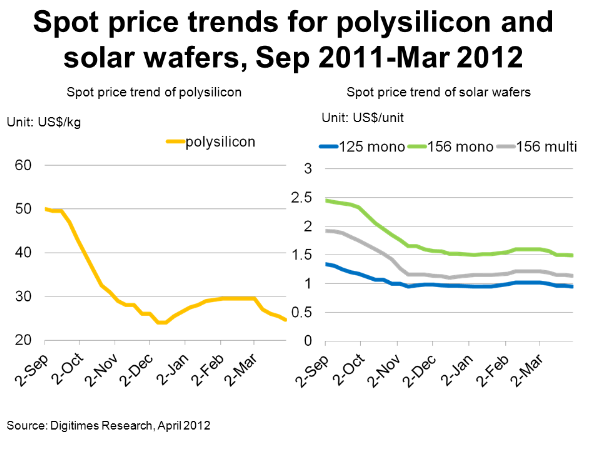 Amid oversupply of upstream solar materials, price of polysilicon has been falling drastically since March 2012. By end of March, the price had fallen back to the same low point seen in December 2011. The downward trend is likely to continue.
Compared to the oversupply at the polysilicon sector, the price fall of solar wafers has been relatively mild. The price of solar wafers fell by 5-7% in March, eroding the slight price increase that had begun in January 2012. The price of solar modules has fallen to new lows, which is likely to bring down spot price of solar wafers. In addition, demand in April is expected to be lower than March, hence spot price of solar wafer is likely to fall again, reaching new lows.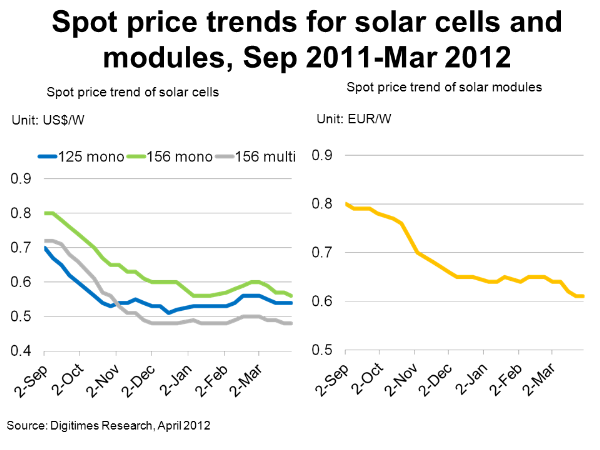 Due to Germany・s incentive cuts, price of China-based solar modules has been the first to fall since March. By mid-March, the price of polysilicon solar modules had fallen below EUR 0.60/W with average price at EUR 0.58/W. The lowest price available was EUR 0.55/W. Price of monocrystalline solar modules fell below EUR 0.65/W. The prices of solar modules reached new lows causing price of solar cells to fall as well. By end of March, the price of high-efficiency solar cells from China was US$0.45-0.46/W. The price is likely to fall further as demand in April is expected to be lower.
The price fall of solar products has been putting pressure on the supply chain. However, the pessimistic market condition predicted by the solar firms for April did not happen. Therefore, many buyers who had expected weak demand and refrained from placing orders had to issue urgent orders, giving solar firms clear order visibility for first-half of April.
In first-quarter 2012, rising demand from emerging solar markets began to show, which helped to weather the negative impact from solar policy changes in Germany. Emerging solar market such as the US, China, Japan and India have been showing the most growth. Different from the US and Japan solar markets, China's and India・s solar markets have been dominated by low-price solar products. If the industry anticipates demand from these markets to override the decreases in demand from Europe, then another cycle of price fall may be unavoidable.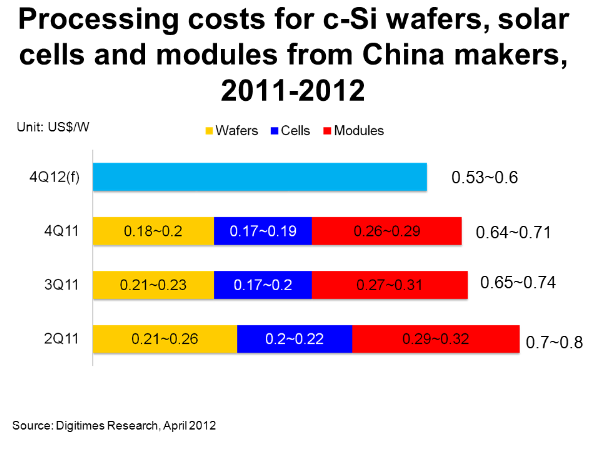 The price fall of solar products have been pushing solar firms into losses and has not yet shown signs of rebounding. Based on the cost structure of the downstream to upstream supply chain for PV modules in China, polysilicon wafer processing costs were US$0.18-0.20/W in fourth-quarter 2011, while solar cell processing costs were US$0.17-0.19/W, and module processing costs were US$0.26-0.29/W. Polysilicon procurement costs were US$30/kg, equivalent to US$0.18/W, while total module costs were US$0.79-0.86/W. Given the fourth-quarter 2011 module list price of EUR 0.68/W (US$0.89), it is not difficult to see that it was difficult for manufacturers to retrieve profits.
Looking ahead into 2012, China-based manufacturers' goals are to bring multi-crystalline wafer processing costs (excluding the cost of polysilicon materials) down to US$0.12-0.15.W by the end of 2012; while solar makers' goals for the same period are to reduce costs (again excluding polysilicon materials) to US$0.16-0.18/W. Module makers' goals are to bring costs (excluding polysilicon) down to US$0.25-0.27/W. With these goals, the cost of processing polysilicon wafers and modules (excluding the cost of polysilicon materials) can be reduced to around US$0.53-0.60/W.
Looking at 2012 module price trends from the perspective of market requirements, it is clear that if the price drops continue through the second quarter of 2012, module prices could drop to as low as EUR 0.55/W (US$0.72).
However, if an excessively pessimistic module market results in excessive drops in prices to EUR 0.5/W (US$0.65), module makers will only be willing to accept orders if polysilicon wafer prices fall to US$1.00/wafer and polysilicon cell prices remain at US$0.40/W. In such a situation, the majority of manufacturers would be forced to suspend production or even withdraw from the market altogether in order to avoid incurring losses; only then would prices begin to truly rebound.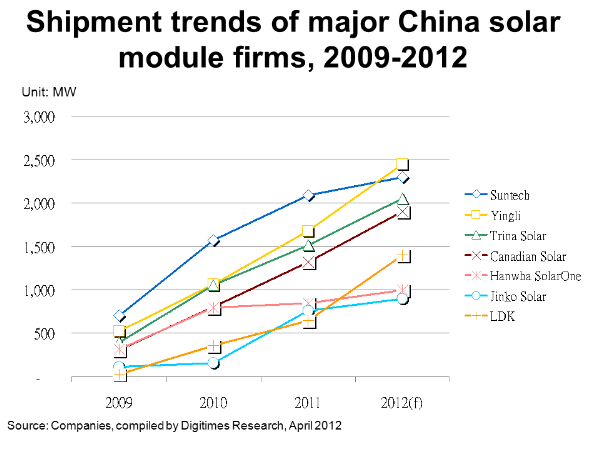 Most major solar module firms in China have disclosed 2011 financial reports. Most tier-one solar module firms in China predicts 2012 shipments to grow 30-40%.
Suntech・s 2011 solar module shipments reached 2.087GW. Due to uncertainties, the firms believes 2012 growth will be around 0-20% with annual shipments reaching 2.1-2.5 GW. Currently, Suntech does not have any plans for capacity expansions, capacity is to maintain at 2.4GW.
Yingli shipped 1.679GW of solar modules in 2011. The firm believes shipments will reach 2.4-2.5 GW in 2012 with annual growth rate of 43-49%. Yingli also plans to expand capacity from 1.7GW to 1.85GW in first-half 2012. In second-half 2012, the firm plans to expand capacity further to 2.45GW.
Trina Solar・s 2011 shipments were 1.511GW. Optimistically, the firm predicts 2012 shipments to reach 2-2.1G W, a growth of 32-39%. Trina Solar plans to expand capacity to 2.1GW from 1.9GW in first-quarter 2012.
Canadian Solar・s 2011 shipments reached 1.322GW and predicts 2012 shipments to be around 1.8-2GW, a growth of 36-51%. The firm plans to expand capacity from 2.05GW to 2.3GW.
Hanwha SolarOne and LDK are more conservative about 2012 shipments. The two firms predict annual growth of shipments to reach 18%. Both firms don・t plan to expand capacity. LDK continues to focus on expanding the solar module businesses and has set 2012 shipment growth target at 117%, reaching 1.4GW.
The solar market has been predicted to show growth in 2012. The conservative players predict the market to grow by 5-10% while optimists predict growth can reach 15-20%. China-based solar module makers believes 2012 total shipments will show growth of 30-40% showing China-based solar firms are eyeing bigger market share as prices of solar products fall. Europe customers have been shifting their focus to price instead of quality when procuring solar products. This further fuels market share growth of China-based solar firms and pushing Europe- and US-based solar firms to make business transitions or exit the market.