Digitimes Research: Brands and ODMs see less than 10% on-month drop in November notebook shipments
Eric Lin and Joanne Chien, DIGITIMES Research, Taipei [Monday 10 December 2012]

The global top-5 notebook brands together suffered a 4% on-month drop in November, but Hewlett-Packard (HP) and Acer, which had deep on-month drops in October, saw rather stable performance for the month. HP enjoyed a slight shipment growth in November, while Acer had flat performance; however, Asustek Computer, which achieved strong shipments in October, saw the worst drop among the top-5 vendors in November due to unsatisfactory demand for Windows 8 notebooks, according to Digitimes Research senior analyst Joanne Chien.
As for top-tier notebook ODMs' shipment performance, Compal Electronics had the best growth in November, up slightly on month; Wistron and Pegatron Technology suffered drops within 10%; while Quanta Computer and Inventec had drops of more than 10%. Together, the top-3 ODMs suffered an on-month shipment drop of 7% in November with the percentage rising to a drop of around 10% for the top-5 ODMs, Chien noted.
Seeing the PC market becoming mature, x86-based processor makers had been taking measures in November to defend their existing PC product lines, while advancing into other industries such as emerging mobile products and servers. AMD started the development of ARM-based applications, but such a strategy may create conflicts in the allocation of the company's limited resources, according to Digitimes Research senior analyst Eric Lin.
In addition to the acquisition of Singapore-based Creative's GPU technologies, Intel is also aggressively pushing its processors to mobile device markets.
As for ARM, although Windows RT has not achieved as much success as expected, the operating system is still a major step for the ARM platform's advance into the PC industry. ARM has also been cooperating with IC designers and software developers to push server related applications and its partnership with AMD is expected to help in entering the server market.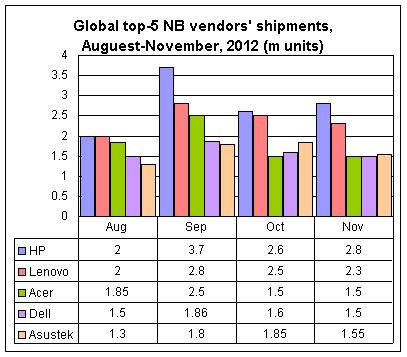 Source: Digitimes Research, December 2012