Digitimes Research: Taiwan foundry capacity utilization to fall in 4Q12
Nobunaga Chai, DIGITIMES Research, Taipei [Tuesday 27 November 2012]

Utilization rates at Taiwan's top-3 IC foundries will average 84.8% in the fourth quarter of 2012, down from 94.8% in the prior quarter, according to Digitimes Research's latest findings. Weaker-than-expected end-market demand has resulted in rising inventory levels among their fabless and IDM customers, which already led to a sequential decrease in their average utilization rates in the third quarter.
Combined revenues for Taiwan Semiconductor Manufacturing Company (TSMC), United Microelectronics (UMC) and Vanguard International Semiconductor (VIS) will reach US$5.47 billion in the fourth quarter of 2012, down 6.8% on quarter and 24.9% from a year ago, Digitimes Research estimates. Major chip suppliers have been making inventory adjustments, and demand across a range of applications in consumer, PC and industrial markets has also shown weakness.
TSMC, UMC and VIS saw their combined revenues grow only 8.5% sequentially to US$5.87 billion in the third quarter, compared to the larger increases usually seen in previous years during the traditional peak season. The utilization rate for the foundries averaged 94.8% in the third quarter, down slightly from 95.5% in the second quarter.
Inventory among the global major IC suppliers climbed to a record US$16.51 billion in the third quarter, reflecting a weak 2012 peak season. The chip vendors are therefore being discouraged from increasing their orders of wafer starts to contract chipmakers.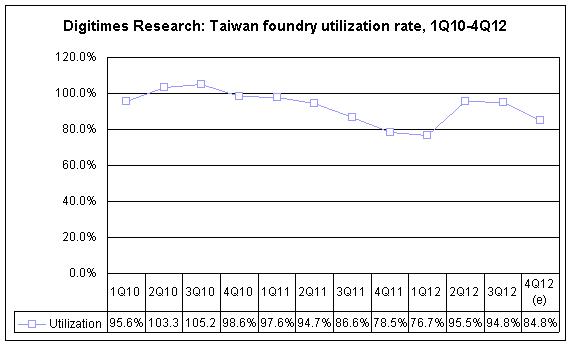 Source: Digitimes Research, November 2012