Digitimes Research: White-box tablet shipments to surpass 50 million units in 2012
James Wang, DIGITIMES Research, Taipei [Tuesday 13 November 2012]

White-box tablets are expected to see a surge in shipment growth in 2012 with volumes surpassing 50 million units, according to Digitimes Research senior analyst James Wang.
There are three major drivers that will help white-box tablets achieve strong growth in the year: a large number of potential consumers brought in by Android handsets, mature development of China-based processors, and decreasing costs o white-box tablets. With the addition of white-box tablet shipments, Android is expected to surpass iOS and become the largest mobile operating system in 2012, while 7-inch displays will also become the mainstream specification for tablets.
As the branded tablet PC market is seeing fierce competition in terms of technology, capacity, yield rates, patents and prices, the rise of white-box tablets has already made these players a new force in the tablet market, with some white-box players even seeing higher shipment volumes than first-tier vendors.
Digitimes Research believes that brand vendors should be aware of white-box tablet players' developments in the future, since even platform designers such as Google and Microsoft have used their resources to increase price competition in the tablet market, and the situation may gradually turn to favor China-based players with expertise in lowering costs.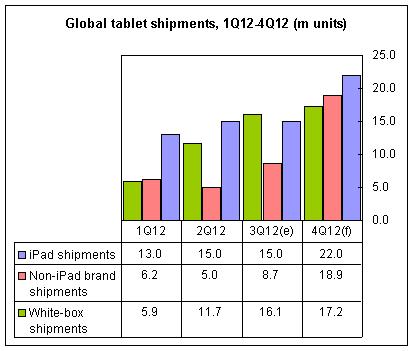 Source: Digitimes Research, November 2012