Digitimes Research: HP and Acer to enjoy on-month shipment growth in August
Joanne Chien, DIGITIMES Research, Taipei [Tuesday 4 September 2012]

The global top-five notebook brand vendors are expected to have achieved shipment increases on month in August, especially Hewlett-Packard (HP) and Acer, which should enjoy more than 20% growth for the month, according to Digitimes Research senior analyst Joanne Chien.
HP's shipments in August are estimated at three million units, and Acer is believed to have shipped about two million units. For the third quarter, HP's strong shipments in August will allow the company to have a chance to achieve shipments of more than nine million units, while Acer is expected to suffer a 15% sequential drop as the company is still seeing rather weak shipments, Chien noted.
On the other hand, Asustek's notebook shipments in August may have only maintained at a similar level as in July, impacting the company's third-quarter shipment performance.
As for the performance of notebook ODMs, most were rather weak compared to brand vendors in August. Quanta Computer and Wistron may have even seen shipment volumes fall lower than those of July. Compal Electronics, which was originally expected to benefit greatly from new orders in August, is only expected to have performed slightly better than in July, causing the combined notebook shipments of the top-three notebook ODMs to suffer an on-month drop of 3% in August.
As for recent market rumors that Lenovo is considering acquiring or forming a joint venture with India-based HCL Infosys to expand in the India PC market, although both firms have refuted the rumors, Digitimes Research believes if the cooperation turns true, it would help Lenovo, which only has about 16-17% share in the India PC market, to significantly widen its gap with Acer, HP and Dell in the market with more than 20% of market share.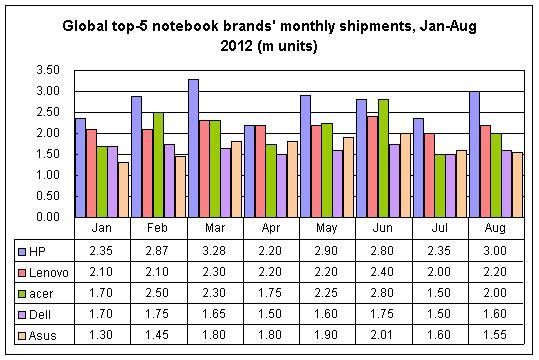 Source: Digitimes Research, September 2012