Digitimes Research: Flat solar spot prices in Greater China due to long holiday
Jackie Chang, DIGITIMES, Taipei [Friday 6 April 2012]

Due to long holidays in China, solar spot prices this week (April 2-6) has remained relatively flat.
The average price of 156 multi solar cells in Greater China has been quoted around US$0.45-0.49/W. Industry sources noted that tier-one solar cell makers in Taiwan have been quoting around US$0.48-0.50/W while tier-two and tier-three solar cell makers have been quoting around US$0.46-0.48/W. In China, the price is in the range of US$0.45-0.46/W.
Spot prices of solar products in Greater China have not been changing drastically despite the April 1 incentive cuts in Germany. Nevertheless, Germany-based solar cell firm Q-Cells filed for bankruptcy this week, which may cause a ripple effect. Q-Cells is the fourth Germany-based solar firm to file for bankruptcy in recent months.
Weekly price of solar products in Greater China, April 2-6

Item

Type

Unit

Average

Change

Polysilicon

Chunk

US$/kg

24.2

-0.50

Wafer

125 mono

US$/unit

0.95

No change

156 mono

US$/unit

1.48

-0.01

156 multi

US$/unit

1.13

-0.01

Cell

125 mono

US$/watt

0.53

-0.01

156 mono

US$/watt

0.55

-0.01

156 multi

US$/watt

0.47

-0.01

Module

EUR/watt

0.60

-0.01
Source: Digitimes Research, April 2012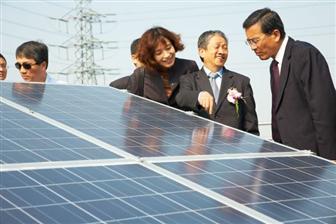 Solar spot prices remain relatively flat in first week of April
Photo: Digitimes file photo