Digitimes Research: Price of solar modules in Greater China falls on Yingli low offer
Jackie Chang, DIGITIMES, Taipei [Friday 16 March 2012]

Digitimes research analyst Chihheng Liang stated that prices across the supply chain have been falling. The price fall of solar modules was due to Yingli's quote of CNY5.18/W (EUR0.55/W) during a project auction in China in the beginning of March. Being a dominating solar module firm in China's domestic market, Yingli has strong influence over the direction of module quotes, Liang added. This price is not a spot price, stated Liang, but the price for April sales. Hence in China, solar module price has been quoted below EUR0.60/W. Spot price still remain at EUR0.60-0.65/W, added Liang.
Despite the overall pessimistic view for April due to the incentive cuts in Germany, Taiwan-based solar cell firms have been quoting relatively high prices. Although uncertainties in the market continue to exist, April demand is not as pessimistic as the industry predicts, concluded Liang.
Digitimes Research: Weekly price of solar products in Greater China, March 12-16

Type

Unit

Avg Price

Change

Polysilicon

Chunk

USD/Kg

26

-1

Wafer

125 mono

USD/pcs

0.96

-0.04

156 mono

USD/pcs

1.50

-0.07

156 multi

USD/pcs

1.15

-0.04

Cell

125 mono

USD/W

0.54

-0.01

156 mono

USD/W

0.57

-0.02

156 multi

USD/W

0.49

No change

Module

Euro/W

0.62

-0.02
Source: Digitimes Research, March 2012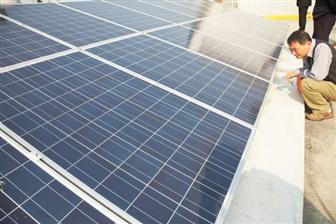 Yingli's low module offer of CNY5.18/W affects solar module price in China
Photo: Michael Lee, Digitimes, March 2012