Digitimes Research: Solar wafer makers in Greater China increase quotes
Jackie Chang, DIGITIMES, Taipei [Friday 10 February 2012]

The prices of solar wafers and cells have been increasing. However, polysilicon spot price remains flat at US$29.50/kg while the price of solar modules has dropped by EUR0.01/watt.
Prices of solar wafers have been showing strong increases. Solar wafer firms suffered the most when prices were dropping across the supply chain in 2011. Despite the return of demand in recent months, solar wafer firms continue to suffer losses. Hence the firms are determined to increase prices when demand is healthy, said Digitimes Research analyst Chihheng Liang.
Quotes of 156 multi solar wafers in Taiwan have been around US$1.20-1.25/unit while quotes in China have been approximately US$1.15-1.20/unit. In addition, solar wafers with high efficiency have been quoted above US$1.40/unit, said Liang.
Unlike other segments, the price of solar modules has been decreasing due to uncertainties over government policies, concluded Liang.
Weekly price of solar products in Greater China, Feb 6-10

Item

Type

Unit

Average

Change

Polysilicon

Chunk

US$/kg

29.5

No change

Wafer

125 mono

US$/unit

1.02

0.03

156 mono

US$/unit

1.60

0.05

156 multi

US$/unit

1.21

0.04

Cell

125 mono

US$/watt

0.54

0.01

156 mono

US$/watt

0.58

0.01

156 multi

US$/watt

0.49

0.01

Module

EUR/watt

0.65

-0.01
Source: Digitimes Research, February 2012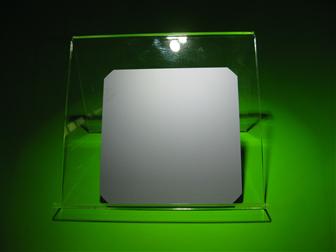 Solar wafer firms in Greater China are determined to increase price
Photo: Digitimes file photo