Digitimes Research: Solar PV installations booming in US southwestern states
Sophia Chen, DIGITIMES Research [Friday 10 February 2012]

In the US, every state has its own solar PV incentive program. The ranking of the top-10 states that have the highest installations is expected to go through major reshuffles in 2011 and 2012.
The percentage goal of electricity produced by renewable energy varies in different states. This goal can affect the aggressiveness for state power companies to adopt renewable energy sources. The grid connection structure, land grant, government protocols and tax system, which are factors affecting solar PV system installations, also vary by states.
The southwest region of the US is expected to construct many large-size solar PV system projects in 2012. This will increase installations of the region significantly. The northeastern states, such as New Jersey and Pennsylvania, have been relying on the Solar Renewable Energy Certificate (SREC) mechanism. When SREC supplies electricity beyond the demand of power companies, the price falls significantly. This often prevents local power companies installing solar PV systems.
The drive for solar PV system installations in the US includes 30% tax break policy announced by the federal government and state incentive programs. According to US Solar Energy Industries Association (SEIA), California with 259MW of installations ranked number one among all 50 states in the US in 2010. New Jersey with 137MW ranked second, while Nevada and Arizona ranked third and fourth. Colorado, Pennsylvania, New Mexico, Florida, North Carolina and Texas ranked from 5-10 respectively.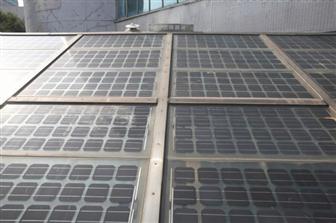 Solar PV installations growing fast in southwestern US
Photo: Digitimes file photo