Digitimes Research: Korea firms keen to work with local suppliers of AMOLED materials and equipment
Tony Huang, DIGITIMES Research, Taipei [Monday 6 February 2012]

South Korea-based LG Electronics has showcased a new 55-inch AMOLED TV with a thickness of 4mm and weight of 7.5kg. LG plans to launch the product in second-half 2012.
Samsung Mobile Display (SMD) also has plans to develop the 50-inch and larger AMOLED panel market. SMD's 5.5G AMOLED production line mainly produces mobile and tablet PC devices.
The main costs of TFT LCD panels are materials such as backlight modules and glass substrates, accounting for 65%. In addition, the fixed asset (equipment) amortization costs for LCD TFT panels account for 15-18%. For AMOLED panels, materials still account for more than 40% of total costs, but amortization rate account for 40% as well. If panel makers can cooperate closely with equipment and material suppliers, costs can be effectively lowered.
SMD cooperates with affiliated companies in Samsung Group for materials and works with local equipment firms such as SNU, SFA and AP Systems.
LG Display entered the production of AMOLED panels later than Samsung, and has been cooperating with Japan-based material and equipment firms more. However, LG Chemical has been developing AMOLED materials and working with Jusung to develop equipment.
South Korea-based firms have been eager to develop AMOLED materials and equipment with local firms. Japan-based firms have been seen as second choice. This means South Korea-based panel makers hope to lower AMOLED panel costs and increase control over materials and equipment.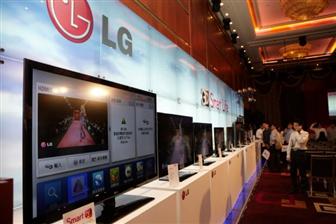 LG plans to launch 55-inch AMOLED TV in 2H12.
Photo: Digitimes file photo