Digitimes Research: 39-, 50-inch TV panels to gain market acceptance
Tony Huang, DIGITIMES Research, Taipei [Wednesday 11 January 2012]

New LCD TV sets for 2012 will come in a number of new screen sizes including 36.5-, 39-, 43-, 48- and 50-inch, as suppliers seek to make their products stand out amongst their numerous peers and improve their overall ASPs.
Among the new emerging sizes, Digitimes Research believes 39- and 50-inch will outperform the rest and enjoy market acceptance in 2012.
Demand for 39-inch TV models is forecast to rise for two reasons. The size could attract price-sensitive buyers who are interested in larger size TV sets. A 39-inch TV is priced just slightly higher than a 37-inch one, but is almost a 40-inch model.
TV sets sized 50-inch will create a new market segment between models of 46/47-inch and 55-inch. Production of 50-inch panels also enable some panel makers, in particular Taiwan-based players, to utilize efficiently capacity at their 7.5G lines.
Some TV vendors are expected to avoid a possible supply shortage by diversifying their offerings to include 39- and 50-inch models, as at least two panel suppliers - AU Optronics (AUO) and Chimei Innolux (CMI) - are supporting the two new segments.
AUO will likely see the proportion of 39-inch in its overall TV panel shipments rise to 6% in the first quarter of 2012, and expand further to 8-9% in the fourth quarter.
Meanwhile, Samsung Electronics continues to be the sole supplier of 43- and 48-inch TV panels.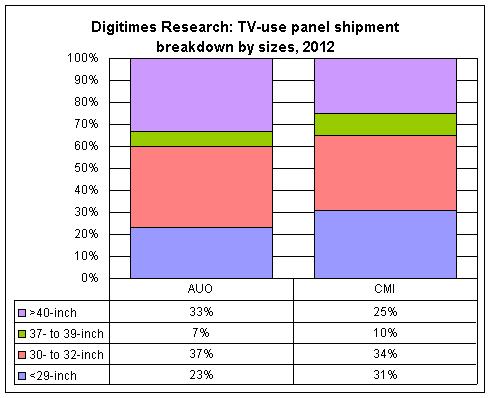 Source: Digitimes Research, January 2012