Digitimes Research: Hard drive supply gap to only reach 5% in 2Q12
Joanne Chien, DIGITIMES Research, Taipei [Tuesday 13 December 2011]

Thailand's floods in early October, have created strong impact toward the hard disk drive (HDD) supply chain, causing many PC brand vendors to miss business opportunities in the fourth quarter, the traditional peak season, but Digitimes Research senior analyst Joanne Chien believes hard drive capacity will see an obvious improvement starting February 2012 after experiencing the most serious shortages in December 2011 and January 2012.
Because brand vendors are already out of HDD inventory, shipment volumes of devices with HDDs in the first quarter of 2012 will remain at a similar level as in the fourth quarter of 2011, with the HDD supply gap to remain at about four million units. In the fourth quarter, brand vendors together have a total inventory volume of about 20 million units.
Benefiting from their crisis management capabilities, Western Digital and affected upstream HDD component makers are expected to restore 70% of their total capacity by March 2012, three months earlier than their original forecast.
Since the HDD hardware supply chain is recovering at a rather fast pace, Chien estimates that global HDD supply in the second quarter of 2012 will reach 165 million units, up 18% on quarter with the shortage gap to be limited to within 5%. If the overall recovery pace is even faster, supply and demand may be able to reach balance in the second quarter of 2012 and to start seeing growth in the third quarter.
However, despite the recovery status being better than expected, the unsatisfied demand in the fourth quarter is unlikely to be postponed to the first quarter of 2012 since most demand is mainly from shopping for the holiday season and will disappear once the holiday season is over.
Since the first quarter of 2012 is not a peak season for shopping, while hard drive supply will see an obvious improvement, channel retailers, which are only receiving limited HDD supplies and have been storing HDD inventory to cause a surge in HDD prices, are expected to dump their HDD inventory in February after the Lunar New Year in China.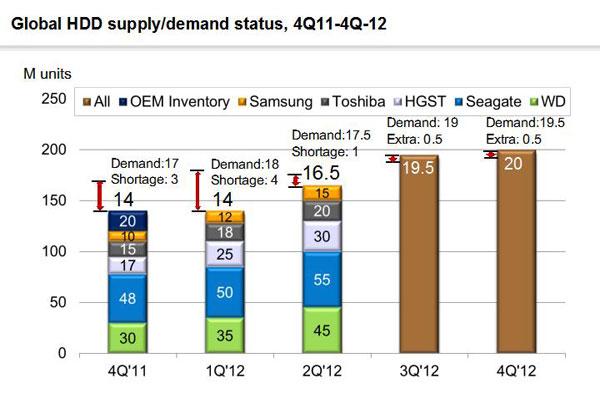 Source: Digitimes Research, December 2011