Digitimes Research: Top foundries in Greater China to see slight growth in 2011 revenues
Nobunaga Chai, DIGITIMES Research, Taipei [Thursday 1 December 2011]

Following a strong recovery in 2010, Digitimes Research expects the top-three foundry chipmakers in Greater China to see their combined revenues grow at a modest 3% rate in 2011.
Taiwan Semiconductor Manufacturing Company (TSMC), United Microelectronics Corporation (UMC) and Semiconductor Manufacturing International Corporation (SMIC) are forecast to collectively post US$19.38 billion in 2011 revenues, up 3.3% from 2010 levels.
In 2010, combined revenues of the three foundries climbed 43.4% to US$18.77 billion.
Affected by slowing end-market demand amid an uncertain global economic climate, the three foundries' combined sales declined 7.2% sequentially to US$4.79 billion in the third quarter of 2011. Both UMC and SMIC registered double-digit sequential decreases in third-quarter revenues, mainly due to falling orders from the IDM sector.
However, TSMC's sales performance during the third quarter outperformed the rivals' thanks to its advanced technology development. Sales of TSMC's 45/40nm processes were driven by increased demand from IDM companies.
Digitimes Research estimates another sequential drop in combined revenues of TSMC, UMC and SMIC in the fourth quarter of 2011, as sluggish market conditions continue. The three major Greater China-based IC foundries are expected to report a total of US$4.51 billion in fourth-quarter revenues, down 5.9% on quarter.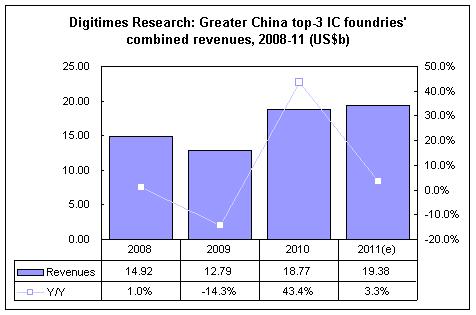 Source: Digitimes Research, November 2011